FlashForge Guider IIS / 2S - FDM 3D printer - with high temperature extruder
In stock:
2 pz.
FDM 3D printer for professional production capable of extruding up to 300 ° degrees, Nylon molding
If you want information contact the 3dcut specialists !!

Delivery expected late June


See it on the yuotube
Guider IIS / 2S
FlashForge Guider IIS / 2S
Pour one of the updated Guider IIS with high temperature extender able to 300 ℃. So now you can print even more materials.
The Flashforge Guider II S 3D printer is a further improvement over the Guider II. In addition to the capabilities of its predecessor, the Guider II S has an integrated HD camera. This allows you to remotely monitor the 3D printer. In addition, this additive manufacturing machine has an air filter that reduces unpleasant odors and harmful emissions. Guider 2 S is a desktop 3D printer with industrial production quality. It has a very large build volume and at the same time very high resolution and precision. The robust structure and structure guarantee maximum stability and robustness during 3D printing of projects.
The main characteristics of the product:
Industrial 3D print quality for your desktop

Large building volume: 280 x 250 x 300 mm

Integrated camera for monitoring

Intuitive operation via color touchscreen

It works with Polar Cloud

High manufacturing precision

Easy-to-use 3D printing software: FlashPrint

Built-in filament sensor
Other characteristics:
Large volume of the building with professional additive manufacturing quality

Filament sensor detects filament status, pauses generative production and simply resumes 3D printing after power failure

Intelligent leveling of the 3D printing plate

Air filter device to reduce unpleasant odors and dangerous emissions

Video monitoring of the 3D printing process using an integrated HD camera

Intuitive 5-inch color touchscreen

Closed case, removable lid and heated platform

Simple and robust metal frame structure and stable ABS parts
The integrated filament sensor detects whether the filament is inserted into the 3D printer. If the filament leaks, the 3D printer will receive a message and suspend the Flashforge Guider IIS. After inserting a new filament, you can simply continue 3D printing. The filament sensor also allows you to resume 3D printing after a power outage.

Technical details:


Print technology: FFF (Fused Filament Fabrication)

Build volume: 280 x 250 x 300 mm (11 x 9.85 x 11.8 inches)

Positioning accuracy: XY: 11 microns, Z: 2.5 microns

Layer thickness: 0.1-0.5 mm

Nozzle diameter: 0.4mm (0.015 inch)

Filament diameter: 1.75mm (0.069in)

Printable materials: ABS / PLA / Elastic filament / Conductive filament / TPU / TPE / Wood filament / Nonmetal filament / Carbon fiber filament

Layer resolution: ± 0.20 mm

Max. Extruder temperature: 240 ° C (464 ° F)

Heated Plate Temp .: up to 120 ° C (248 ° F)

Extruder quantity: single

Printer size: 549 x 490 x 755 mm, (22 x 19.5 x 30 in)

Printer weight: 30 kg (66.14 lbs)

Software: FlashPrint

Connectivity: USB cable / USB stick / Wi-Fi / Ethernet

File type: Input: .stl, .obj; Output: .g / gx

Supports (OS): Windows XP / Vista / 7/8/10, Mac OS X, Linux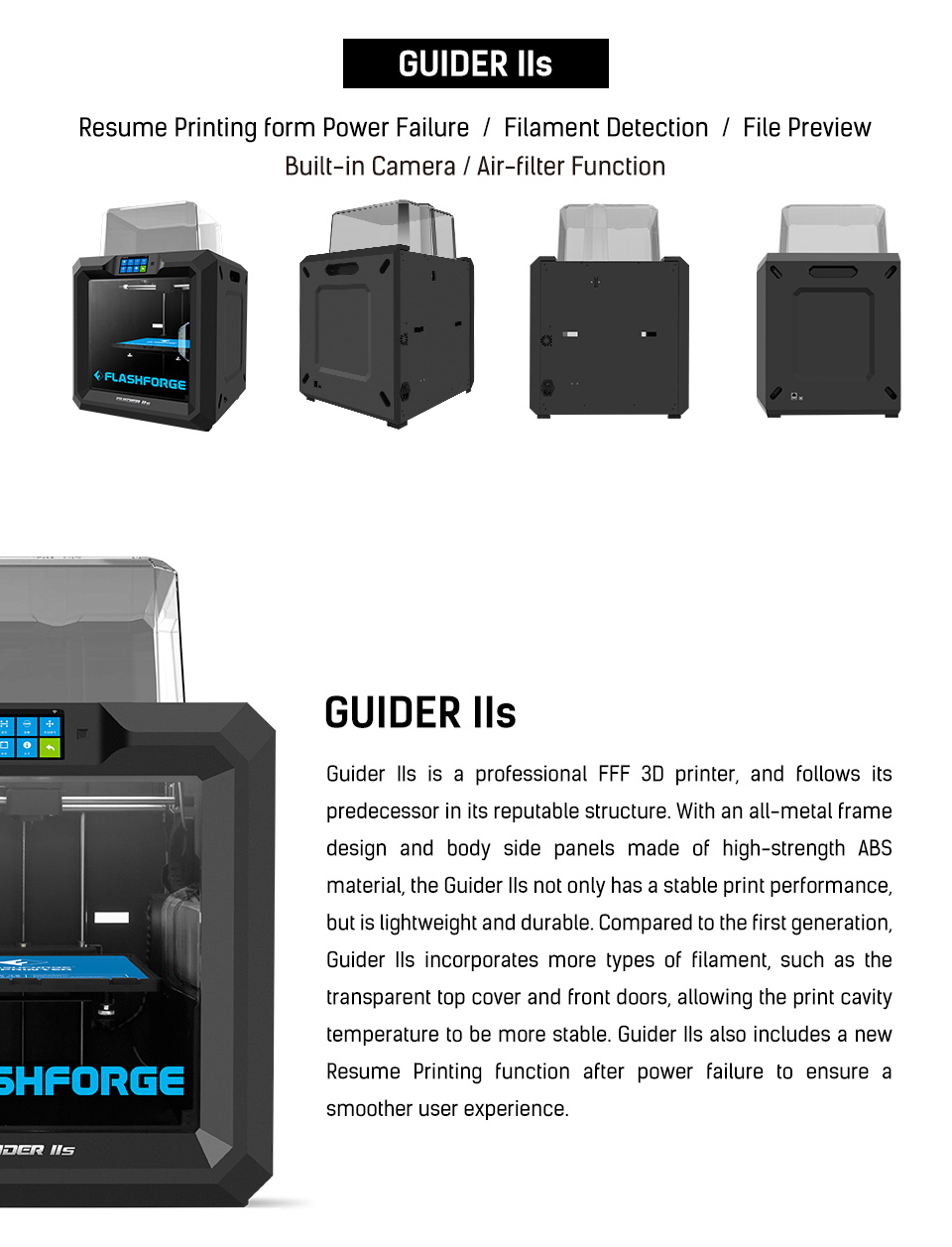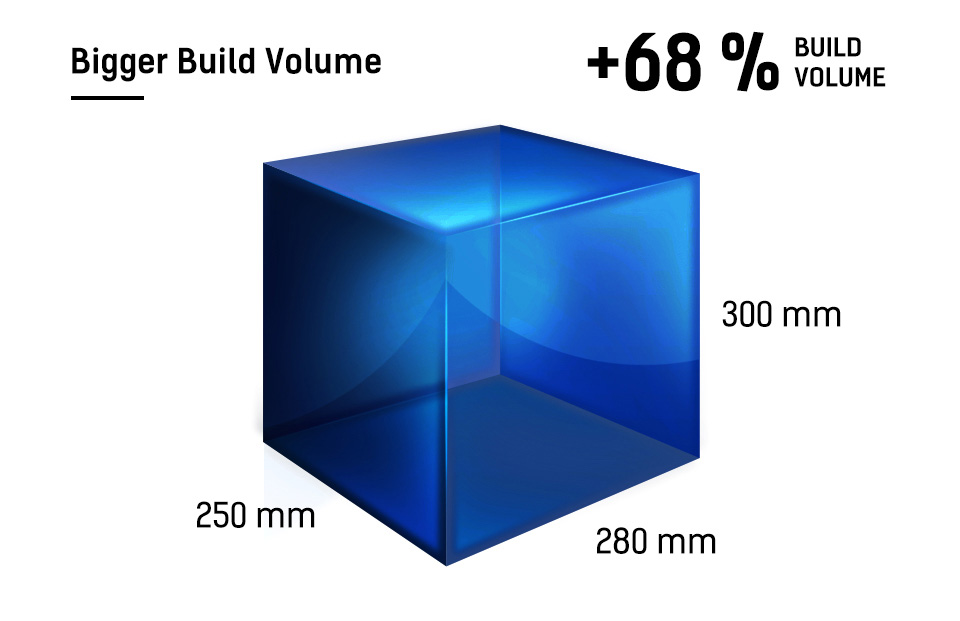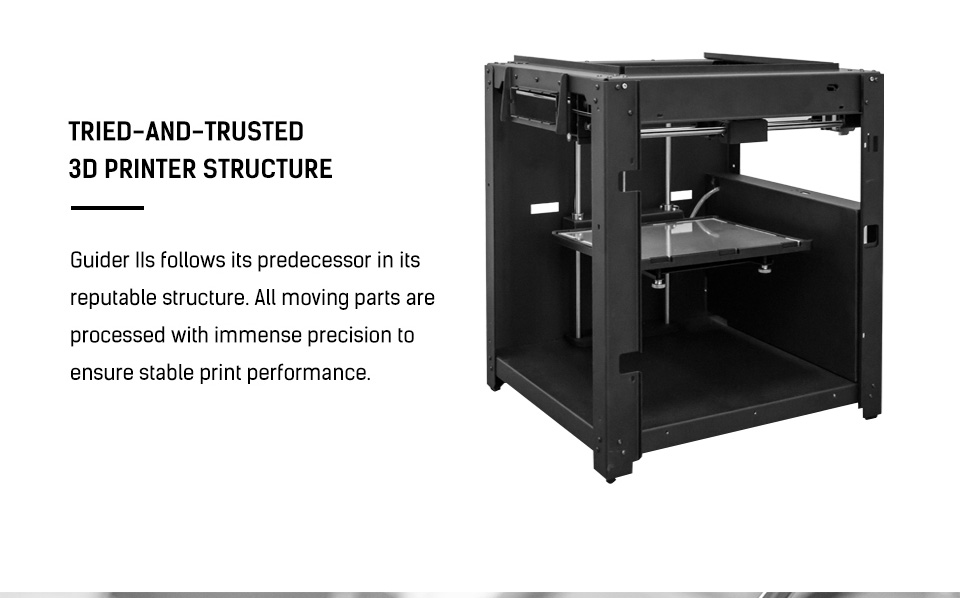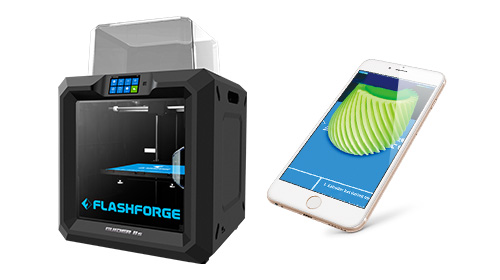 The online camera allows you to monitor print jobs via the online camera anywhere, anytime.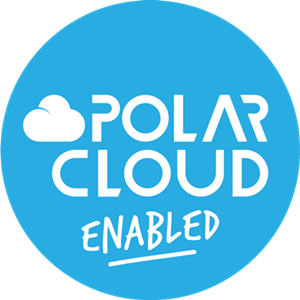 Manage your 3D prints from anywhere with the Polar Cloud online platform. Inventor IIS comes with Polar Cloud enabled, so you can control the 3D printer from anywhere. All you need is an Internet connection. You can also connect and manage multiple devices simultaneously. Cut your CAD models, queue up your 3D printing jobs and use the built-in webcam to check if 3D printing works properly!